2023 Guide to improve SEO positioning in
Instagram and LinkedIn
Social media is a vital component of any digital marketing strategy, and while the vast majority of brands are familiar with search engine SEO, social media SEO is apparently a slightly lesser-known field. In this note we leave you some tips to improve your SEO positioning both on Instagram and LinkedIn, ready?🏁
Why is SEO important in social networks?
SEO applied to networks has the potential to increase the visibility and reach of your brand, allowing you to reach a broader and more effective audience.
By increasing visibility on social networks we can also improve our brand reputation, attract new potential customers and increase traffic to our website💪
For all this it is super important to have it in our social media strategy 😎
SEO on Instagram: What has changed in 2023?
If you are trying to grow your account on this social network, we have something to tell you: Don't waste your time trying to please the algorithm or put all your expectation to improve reach using hashtags, this is no more! 🙅
Even Instagram CEO Adam Moseri recently said that hashtags are no longer as relevant as they used to be and that the network is working to boost SEO on its platform.
What counts is the intention 
In the past people used to discover new content through hashtags or from the Explore page, today they do it from the search bar instead.
That's why now is the time to focus on mastering your account's SEO and intentionally allowing users to discover your content.
How to improve SEO on Instagram?
To begin with, it is essential that you know which are the most relevant texts that you should take into account when improving your profile: 
Your biography: It's the perfect place to include keywords to describe who you are and what kind of content you post. 
Your Instagram name: Choosing a relevant username and using keywords in it can help you get found by people looking for accounts like yours.
Alternative texts: Its main purpose is to help visually impaired people understand your content but it is also important for SEO as it helps the algorithm to understand your posts and make them relevant to specific searches.
Everything good up to here? Don't worry! Below you will find some hacks to make your Instagram profile highly optimized👇
6 HACKS to optimize your Instagram profile
1- Always use the "Add topics" function to your posts
This feature is quite new on Instagram, it allows you to categorize your reels by adding up to 3 topics that best describe what the content is about and so on. Reach audiences that share your interests.
You can find it at the moment you upload a reel and you will see it as follows on the screen:
2- Incorporate keywords into your copies
An effective way to improve the visibility of your content on Instagram is by incorporating SEO keywords into your texts. 
How to find keywords?
Through free tools such as Google Analytics and Google Trends, or from the same Instagram search bar. Just start typing a keyword in the search bar and you'll see suggestions that can help you expand your list.
🤫TRICK: You can also take the keyword-optimized description you created, make it small and include it hidden in your stories. In this way you will expand their reach and reach the right people. 
3- Do not forget the subtitles in your videos!
Instagram has auto-generated captions for videos, which is great for accessibility. 
If you include your target keywords in these subtitles, you will be providing more context for SEO (both to Instagram and to other search engines). This will help you in positioning, lThus, making the engines understand your content better than with just a title😉
4- Use hashtags optimized for SEO
Although hashtags have lost relevance, it is still important that you use them properly.
Here we leave you some of the Instagram tips to maximize its use:
Only use hashtags that are relevant and specific to your content.
Include a mix of popular and niche hashtags. Also consider using campaign-based or branded hashtags.
Limit the amount to 3-5 per post.
Don't use irrelevant or overly general hashtags.
How to choose the best hashtags for your post?
Take a look at the Instagram statistics of your posts and pay attention to how many impressions are coming from your hashtags.
Implement social listening to see which ones are being used by your audience, competitors, and influencers in your industry.
Lastly, you can also research some hashtags using the Instagram search bar.
5- Optimize your alternative text every time you upload a photo
Did you know that Instagram has a feature that uses object recognition technology to create an automatic caption for each photo? 🤔 Well, believe it or not, this also helps the algorithm.
As the automatic description will never be as detailed as a human can create, adding the custom alt text is important to improve the experience for people with visual impairments and also to send SEO signals.
If you want to add alt text when you post a photo, simply scroll down the screen where you type your caption, tap "Advanced Settings," and under "Accessibility," select "Write alt text."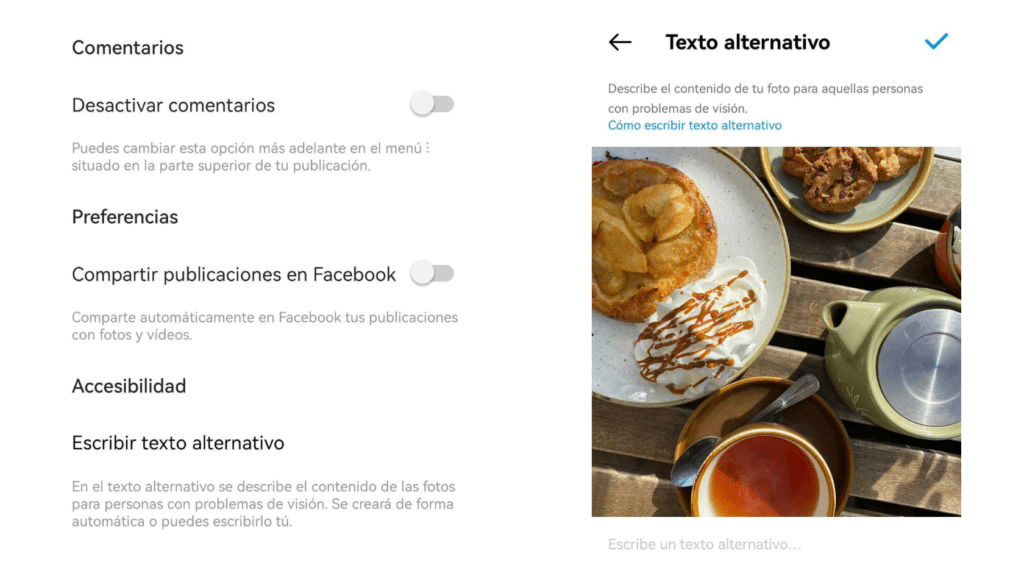 Be sure to follow Instagram's recommendations for alt text 🙌(such as adding context about objects, concepts, and locations, including any text that appears in the image, and aiming for 2-3 sentences).
What if I want to add alt text to a photo I've already uploaded? 🤔 Just open the photo and tap on the three-dot icon and then select "Edit" and "Edit Alt Text" at the bottom right of the image.
6- IEngage with accounts that rank for your target keywords
This way you will help Instagram to understand which niche your account belongs to.
D.Giving likes, making comments, or sending direct messages to other users is a great way to encourage them to return the interaction. 
Instagram loves interaction! So don't forget to spend time building links with other accounts and making lots of friends! 😄

SEO on LinkedIn involves researching and using industry-specific keywords on your page so potential users and customers can easily find what they're looking for.
How to improve SEO on LinkedIn?
If you want your Company Page to appear in the top search results for specific keywords, you just need to include those keywords in your profile and make sure they match what you have to offer.
Another important factor is to keep your profile optimized with as much information as possible and with updated content. Content freshness is a major ranking factor for most search engines.  
Lastly, avoid spam at all costs. Search engines hate spam!🙅, so if your page looks like spam, it's unlikely that it will rank well in search results. Offer valuable content and do not fill your profile with irrelevant keywords or suspicious links.
Now that you have a general idea, we leave you some hacks below for you to apply to your profile😉
5 HACKS to improve the SEO of your LinkedIn profile
Check your competitors for the words that are repeated over and over again in their profiles, write down common phrases and expressions and turn them into keywords that you can use in your profile.
😉TIP: If you have a list of keywords and want to prioritize them, you can use Google Trends. This will help you get a rough idea of how much search traffic a specific keyword gets on Google.
By testing different keywords and phrases and seeing how many searches they get, you'll get an idea of which ones are most relevant.
This step is key for SEO on this platform. Be sure to include clear and concise descriptions of your business that include keywords.
improve your title
The title of your profile is one of the first things that your users will see, so it is important that it is attractive and that you include one or two relevant keywords in it. Keep your title short and to the point, avoid cluttering it up.
Take advantage of your "About" section
In this section you will have more space to make the most of it: 2600 characters, which is equivalent to about 371 to 650 words.
Here you can describe how your company differs from the competition, why your product is a great choice for potential customers, and how they got to where they are today. 
Be sure to add relevant keywords here as well, but always in a natural and coherent way with your content.
When you create your LinkedIn Page you are assigned a default URL that is just a series of numbers. You can edit it and add a keyword relevant to your industry there. 
For example, if you are a marketing agency your custom URL could be "linkedin.com/company-x-marketing-agency" or just include your brand name. This will make your page easier to find for both potential customers and other users. 
4- Use keywords in your publications and articles
Have you tried using the "LinkedIn Articles" or Newsletter function? This type of post allows you to create a kind of blog of your own within your profile, where you can share notes on different topics related to your brand and industry.
LinkedIn will give higher priority to these types of publications over those that redirect the user to a page outside the platform.
So now you know, take advantage of this feature to write your own articles and don't forget to include keywords in them 💡
5- Analyze and measure the performance of your content
Use LinkedIn Analytics to evaluate the performance of your content and better understand your audience. Take advantage of this tool to identify the types of content that generate the most engagement and adjust your strategy accordingly. 
ANDn summary, it has become clear that SEO in social networks is a super valuable tool for any brand that seeks to increase its visibility and reach. 
Through the optimization of social profiles, the publication of quality content, interaction with other accounts and the use of analytical tools, you will be able to improve your positioning and increase the chances of reaching your target audience.
Then make sure to put into practice some of the strategies mentioned above, regularly evaluate its performance and adjust your strategy according to results. 
Did you like it? Share and tell us what you think about it!🤗