Trend 1. Rebuild trust
According to the Edelman 2018 Trust Barometer, "the 60% of people no longer trust social media." This has
generated that brands have the need to rethink their strategies and actions to recover the
trust of your customers. How? Through a more humanized, real and transparent communication.
An outstanding example is the ADIDAS brand, which has achieved a more authentic approach with its
followers through the inclusion of Micro-influencers in their Marketing strategy, in order to target
to a smaller audience, but that provides more loyalty and participation. The sports brand has
associated through the Tang Squad Adidas program with young athletes who have an influence on
specific communities.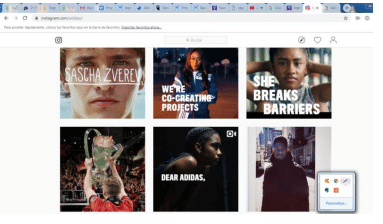 For its part, the Social Media department recommends:
Create a branded hashtag for Instagram aligned with the values of the targeted community.
Create a Facebook group through the company profile on a topic of common interest to the audience.
Include micro-influencers in the Marketing strategy to improve engagement.
Hold a monthly Facebook Live to answer questions from the audience.
Trend 2. Networks that tell stories.
Through a Hoosuite Trends Survey, 2019 "64% of respondents have implemented Instagram Stories into their media strategy or plan to do so in the next 12 months." For his part, Chris Cox, director of Facebook products, affirms that the stories will surpass the content of the feeds and will position themselves as the main means in which people will share their experiences with their friends throughout the next year. Stories are real, immediate and spontaneous transmission content that have become the basis for the transformation of social networks to exclusive platforms for mobile devices. An example is the brand DUNKIN DONUTS, which has been the first company to implement the update for Valentine's Day in its stories. This strategy led to millions of users sharing the stickers, and as a result a high level of interaction and participation in the campaign.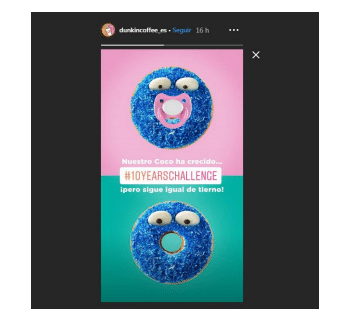 Hootsuite highlights the following actions to implement this trend:
Create specific content for stories, live action and without much elaboration.
Use the featured story function to keep stories for a long time.
Add UTM parameters to the links found in the stories to monitor the
success of them, and understand the content that resonates with your audience.
Add Augmented Reality and GIF functions in stories, to stand out as a brand
and get the user's attention.
Trend 3. Close the advertising gap.
Currently, companies are increasing the budgets allocated for the publications of
payment in social networks, which requires a greater effort of creativity and strategy on the part of the
Marketing professionals.
Also, due to high ad traffic, advertising costs are constantly increasing.
And it's getting harder and harder to get noticed. According to the report by Mary Meeker of Internet Trends of
2018 the cost of clicks on Facebook (CTR) increased by 61% and the cost per thousand impressions
(CPM) increased by 112%.
As an impact of the advertising gap, investment in creativity seems to be the most optimal solution
to stand out from the crowd. NETFLIX has decided to create personalized experiences combined with
ads on social networks without being intrusive, a strategy that has given them very good results. combined
online and offline advertising through geographical segmentation to promote the launch of
one of his series on social networks. At the same time, they organized events aimed at super fans,
which were so successful that they generated thousands of social media posts from attendees.
Suggested recommendations for this trend are:
Understand and select a correct target audience that shares the same interests. With
this would improve content distribution at a lower cost.
Invest in good quality content that resonates with our audience.
Reuse the concepts of organic content that have had the best performance for our company.
Adopt new ad formats to arouse consumer curiosity and avoid visual fatigue.
Trend 4. Crack the code of commerce.
The 70% of China's Generation Z makes its purchases through social networks. However, in other
parts of the world, social media commerce has not kept pace.
Nowadays, purchasing technologies are gradually gaining more ground and it is a fact that a series
of evolving technologies are bridging the gap between social media and commerce, especially
in the young audience that prefers to use these channels to make informal purchases.
For its part, video as a connection tool with the user has become an essential element
for social media trading. The video marketing company, BrightCova has conducted a study to
5500 consumers in which he concludes that "74% of users have said that there is a relationship between
watch a video on the networks and make a purchase".
Ainara Casas, Content Marketing Associate Hootsuite, highlights three important points regarding the
social media trading code:
a. Instagram has a promising future in digital commerce with its purchase option that allows users to
Users go directly to the payment process without having to leave the publication.
b. The transformation of the descriptions of a product to video. It also highlights that the content with
little edition is more successful at this time. In all cases, the humanization of each
contents.
c. Lastly, live streaming holds great promise. Various brands apply this
strategy to sell your products online. As an example of this concept we have the company of
GLOSSIER beauty cosmetics, who are based on the Real Life concept and use the content generated by their followers (video tutorials and photos) to present all their products. Even its founder Emily Weiss estimates that "the 90% of the company's growth could be attributed to their followers on social media."
For this trend it is recommended:
Set up the purchase option on Instagram business posts.
Share the products in action, through the exhibition in different scenarios with each 

one of your details.

Make live broadcasts of the correct use of the product. Likewise, it suggests investing in audiovisual and lighting equipment in order to provide visual quality to the user.
Experiment with Augmented Reality to provide the consumer with a unique experience 

by combining reality with virtual images.
Trend 5. Messaging eats the world.
Currently, "the best messaging applications (WhatsApp, Facebook Messenger, WeChat, QQ
and Skype) between them have almost five billion monthly active users according to the
statistical report of We Are Social and Hootsuite made in Q3 of 2018." That is, the number
of users of messaging applications is higher than users of social networks
traditional from around the world.
This means that more and more people are moving to private spaces to communicate
and less time sharing news on social media.
For its part, according to a survey of 6,000 people around the world, nine out of ten
consumers would want to use messaging to communicate with businesses. Clients have a
desire for privacy and are looking for individual experiences, so messaging is
the ideal means to contact companies.
Consequently, companies are developing their own messaging apps in order to give
immediate, secure and personalized response to its users.
"In a 2018 study of 8,000 people on Facebook, 69% of US respondents
They said messaging a company directly helps them feel more secure about
to the brand."
As the volume of messaging increases, it is necessary to have a unified inbox
for brands (and thus respond to all queries made by messages). Also, it must
expand the number of answer bots and Artificial Intelligence, to minimize the number of tasks.
The KLM ROYAL DUTCH flight company is the best example of this messaging trend.
In one week, the airline responds to 30,000 social media conversations in twelve different languages. Due to this, it has positioned itself as a leader in customer service through the messaging apps. Furthermore, following the success of its chatbot on Facebook Messenger, KLM became the first airline to expand its service to WhatsApp to its more than 1.5 million users users, who can receive their boarding passes, updates on the status of their flights 24 hours a day in various languages.
Recommendations to successfully use this trend:
Enable the Facebook Messenger of the company and start providing information not 

viewable in profile.

Use messaging applications to streamline customer service inquiries in networks 

social.

Set up bots for simple, frequently asked questions only.
Run campaigns that incorporate messaging applications. Contests are considered 

a good way to connect with your customers because they often include an element of 

private message to share the results of it. It also emphasizes taking into 

account mobile formats when creating messaging campaigns.

Finally, it should be vital for businesses to allocate some budget to Messenger ads and experiment with creating ads that are useful, immediate and
practical for the client.