Everything you need to know to stand out in Tik Tok Ads in 2023
Tik Tok is evolving by leaps and bounds and its success is making more and more people interested in advertising on it. The visibility and commitment that can be achieved on this platform with users is something that other social networks envy. For all this, it is possible that for many brands, advertising on TikTok will be one of the main strategies in 2023. But, How do ads work on this platform? What types of opportunities do you offer your advertisers? We tell you everything in this note🚀
Why advertise on TikTok in 2023?
In 2023, TikTok continues to be one of the most popular social networks in the world. With its focus on short videos and smart algorithm, it has attracted millions of users, especially among Generation Z and Millennials.
For brands, TikTok presents a unique opportunity to connect with these highly engaged demographics. And if you're still not convinced, here are some of the top reasons brands should consider using TikTok Ads in 2023:
More of 1 billion active users globally (according to data from Tik Tok).

A young and engaged audience. According to data from the platform, andl 92% of users (😱) perform an action after watching a video and lTikTok users are 1.5 times more likely to buy something immediately after seeing it in the app.

Its great variety of unique advertising formats. This gives brands the opportunity to be creative and experiment with different forms of advertising.

The TikTok algorithm is one of the most advanced in the social media market. Analyze user behavior and display content that is tailored to their interests.

Unlike other platforms like Facebook, ads on TikTok are relatively new, so competition for ad space is less. This allows there to be less saturation and your ad can stand out better and more easily.
The key to stand out on Tik Tok
Before continuing with the advertising part, it is important to note that what makes this network special is its content. For this reason, from the same platform they recommend that the most important thing, first of all, is very important that you focus on create your own brand narrative✍️
How to do it?
Define a Goal
This is the first step, for sure, but it's also important to ask yourself these questions again as your brand grows and reacts on the platform.
Ask yourself: What is your overall goal for wanting to be on the platform? What is your goal with each video you post? How can that goal change over time?
2. Define your Audience
Don't think about demographics here but about the community, what their passions and interests are.
Ask yourself: Who do you want to reach? What is the general audience with whom you want to continue establishing a relationship? Who are the new audiences that you can connect with through their passions and interests and who could become new followers of the brand?
3. Tell a Story
Think about your brand values and how to communicate through a narrative.
When you have determined which audience you want to target, answer yourself: What narrative approach will help the audience know what to expect from you and your brand? How do you want to appear on the platform: do you want the goal of your videos to be to entertain, educate or inspire people?
4. Define a content strategy
Diversify your content: one video might be an animation, another might conclude a person, and another might use a totally different effect. The more you diversify, the more opportunities you have to reach new audiences.
Ask yourself: How can you create TikTok content like an investment and have it 1/3 original, 1/3 trending, and 1/3 community engaging?
Now yes! Once we know what our content will be like and why we have chosen to show it to our audience, we move on to ads.
Advertising on Tik Tok: What makes your ads so special?
Did you know that 68% of TikTok users believe that ads on the platform are unique or different from any other?🤔 (according to Nielsen data)
The key?: "Ads that entertain. Campaigns that connect". 
Here it is important to always remember that the key to this platform is the entertainment and everything you share there must revolve around that. Otherwise your ads will look like just commercial ads and that is not what this network works for. 
What types of ad formats are there in Tik Tok Ads?
A type of native ad that is shown integrated in the Feed For You, along with the other organic videos.
You can add call-to-action buttons to direct users to your website or a specific landing page.
Some of the lenses they work best with are:
Coverage.
Traffic.
Application download.
Video views.
conversions.
This is basically the format that practically all brands work with, as well as being the most affordable of all.
optimal duration: 15 seconds
Aspect Ratio: 9:16, 1:1, or 16:9
With this format you can create a big impact by showing your ad instantly to the user when they open their mobile screen.
Shown to full screen and last up to 60 seconds. It plays with auto-play and sound and includes a call to action.
A couple of great moments that TopView ads are perfect for are:
Great brand moments
(Re)launches of products
High season marketing
reputation boost
optimal duration: 60 seconds
Aspect Ratio: 9:16, 1:1, or 16:9
In favor you have that they allow you to capture the full attention of those who browse and eliminate the competition. On the contrary, the user can quickly identify that it is advertising and the cost is very high.
Here you can see the differences with the rest of the ads: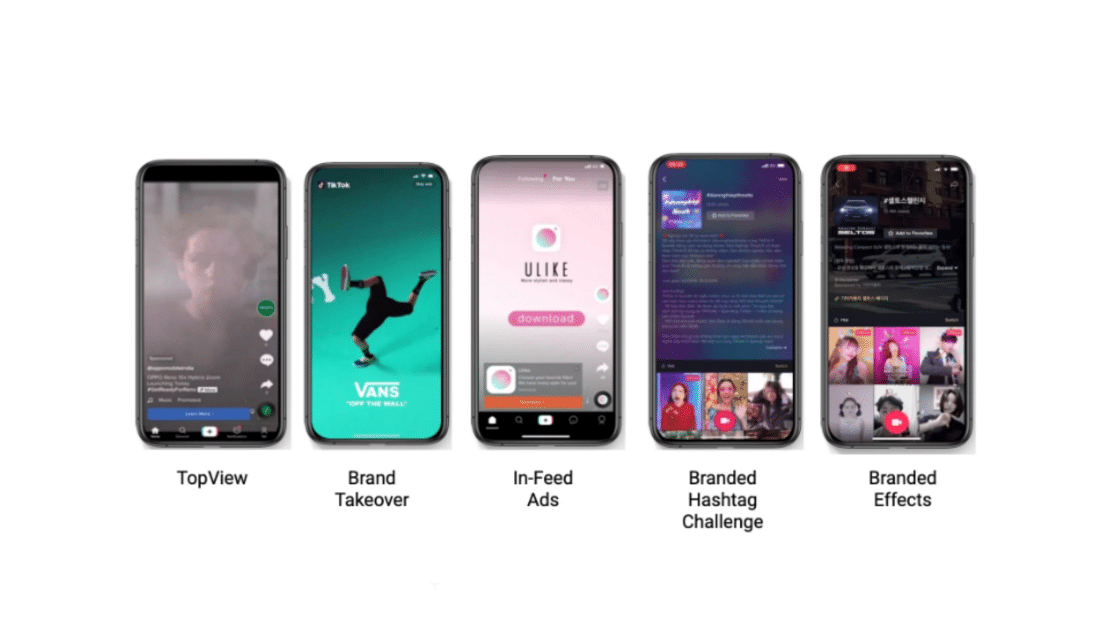 Ads that can be static images or full-screen videos, displayed when a user opens the TikTok app.
This ad format is clickable across the entire screen, which reduces friction between the ad and the landing page, improving the user experience.
Brand Takeover ads offer 100% of Share of Voice during the day they appear, which means that users will not see any other Brand Takeover ads that same day. This premium advertising format has a very high price and it is usually used by big brands that seek maximum exposure and notoriety.
optimal duration: 3-5 seconds for video or 3 seconds for image.
Aspect Ratio: 9:16, 1:1, or 16:9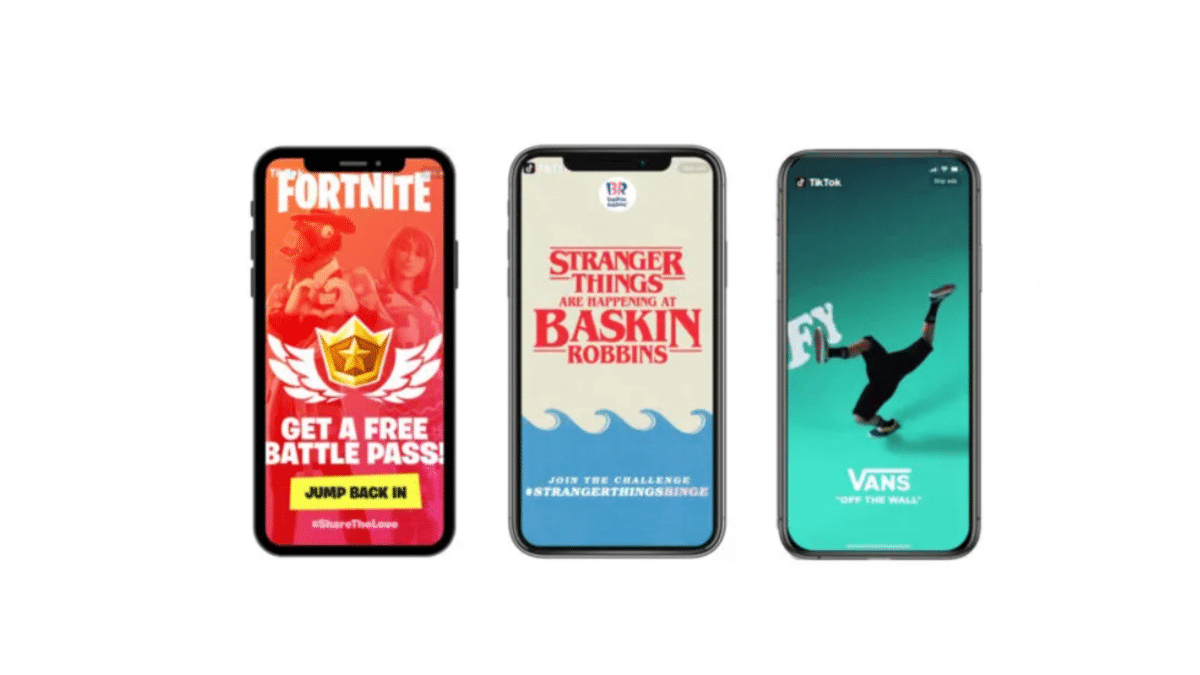 It's a new format from TikTok that aims to help brands meet shoppers.
This is a personalized feed-based commerce solution that directly promotes products to users who have interacted with them on other platforms. 
Learn more about this new format here 👇
This native format allows brands take advantage of organic TikTok posts to convert them into advertising. 
This unique format allows you to post ads:
Using the publications of his own account.

Use organic posts made by content creators (always with your permission).
Are Spark Ads effective?
According to data from Tik Tok, this type of ads has a completion rate a 43 % higher conversion rate and 142 % higher engagement rate than standard In-Feed ads.
This type of ad allows your brand, whether or not it is present on Tik Tok, to be part of the organic conversations that take place on the platform.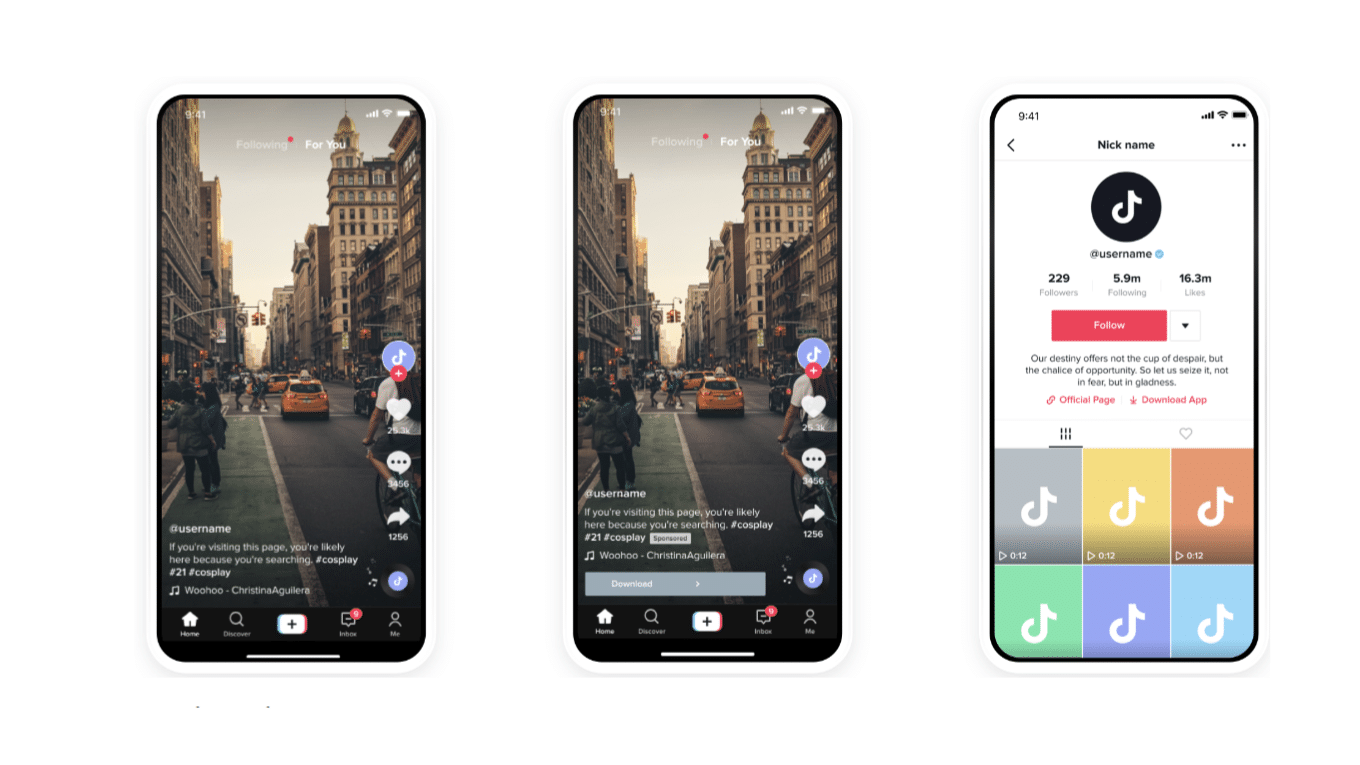 6. Branded Hashtag Challenge
This ad promotes the content generated by users through a #hashtag challenge, where the brand invites users to create and share content in the app, increasing its visibility.
By promoting the hashtag, the brand gets an exclusive banner in the "Discover" tab for 6 days, with the challenge instructions and all user-generated content. 
The Branded Hashtag Challenge is an ad format designed to fit the unique aesthetic of TikTok's user-generated content. Although they are very effective, the costs are VERY high and can only be afforded by big brands.
The format allows three locations:
Standard video ads in the In-Feed placement.
A featured banner on the Discover page.
The Hashtag Challenge page, where all the content submitted by users in the challenge is collected.
Find your content creators on Tik Tok Creator Market Place
It is a platform created by TikTok, which allows brands to search and collaborate with content creators to promote their products or services.
There you can find a list by categories, niches and specific audiences. 
7. Branded Effect / Branded Lenses
A custom effect can be created on TikTok to attract users, using augmented reality branded effects. 
This format is popular among users and is very useful for brand recognition. Also, it can help you strengthen hashtag challenges.
It may require the collaboration of influencers to increase its reach and effectiveness (which will raise your cost).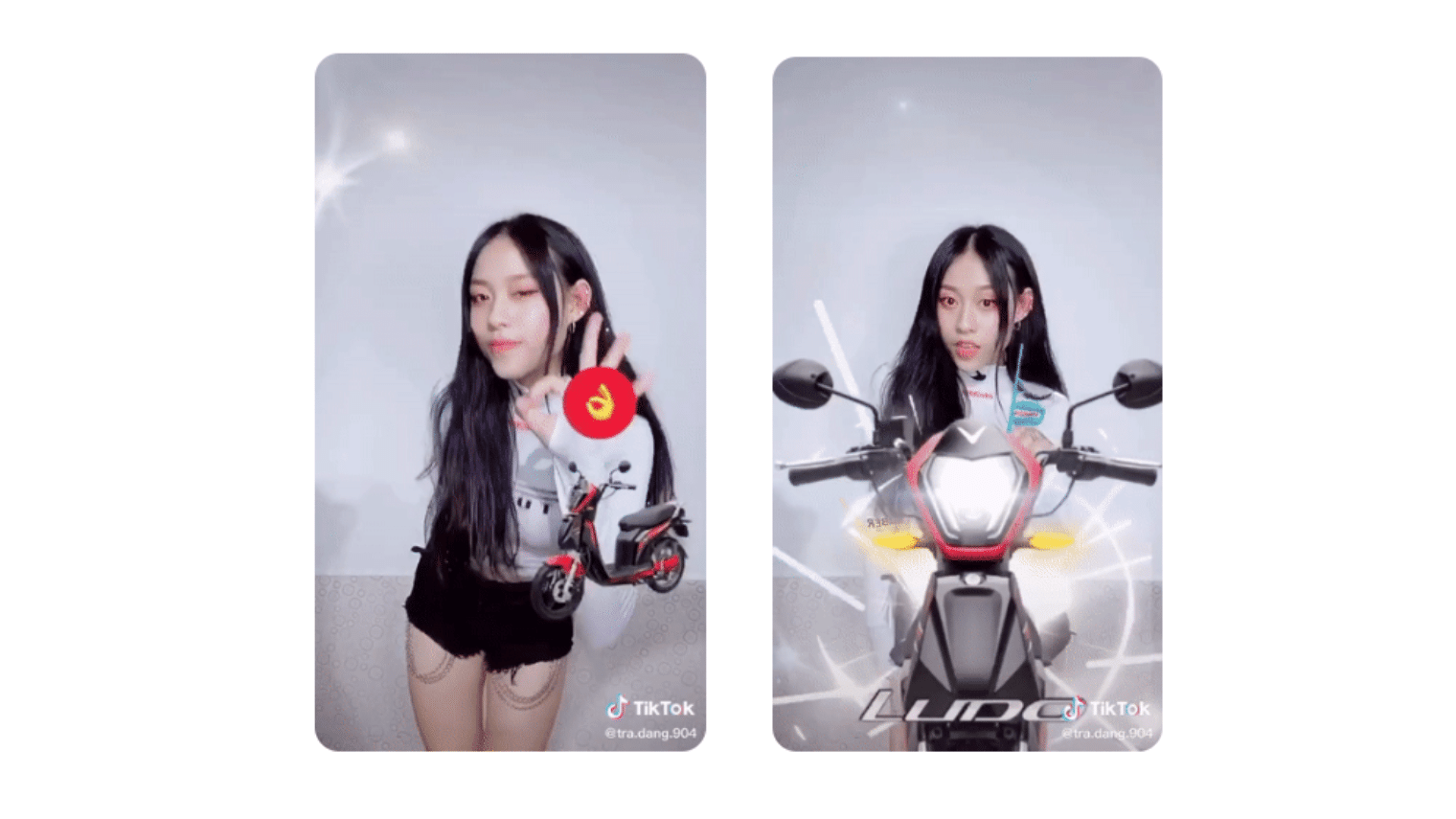 Best practices: How to optimize my campaigns in Tik Tok Ads?
Brilliant! You have already created your campaign in TikTok Ads, but there is still a little more…
To succeed on this social network (as on all), it is important that you closely monitor the performance of your ads.
Here are some recommended best practices for optimizing your campaigns:
Use between 3 and 5 creatives per ad group. This way, you can discover which format and layout works best for your audience. Try new things and experiment.

Control that your campaigns are not limited by budget. Adjust your bid strategies and budget so you don't hit the daily limit and lose impressions and reach from your campaigns.

Try the Lookalike audiences. Look for users similar to those who have already interacted with your website and generated a conversion.

If possible, work with content creators of TikTok to create your ads. This will get users' attention more quickly.

Keep in mind the learning phase of your campaigns when making changes. If you make too many changes in a short period of time, your campaigns could re-enter the learning phase again.

Don't forget the pixel! This tool is essential to measure the success of our advertising campaigns and create retargeting audiences. It can be set to track different types of events on our website, allowing us to understand how our campaigns are performing and make adjustments to improve their effectiveness.
Now yes! You already have everything you need to rock it on Tik Tok Ads 🚀
To summarize, what should I take into account (yes or yes) when defining my advertising strategy on Tik Tok?
It is essential that when thinking about your advertising strategy in TikTok Ads, you take these 4 factors into account: 
The objective of the campaign: As we have seen before, each type of ad has its strengths and weaknesses, leaning towards one or the other will depend 100% on your objective. For example, if what you are looking for is greater user interaction and participation, the Branded Hashtag Challenge or In-Feed Ads may be the most appropriate for your strategy. If your goal is to build brand awareness instead, you may prefer to opt for Brand Takeover or Top View ads. 

Your budget:  This will be key when defining a strategy and if your budget is not high enough, you can opt for In-Feed ads or Branded Hashtag Challenges. Remember that content is the key, sometimes creativity and authenticity is much more powerful than any budget 💪

Your target audience: Create your strategy always thinking about your audience (what are they passionate about?). For example, if your audience is young and interested in music, a music-related Branded Hashtag Challenge might be a good fit.

Creativity: The key to success! Put a lot of effort into how to make your ads attractive. Remember: the purpose of this network is entertainment. 
And what do you say? Are you ready to start yet? 💪 Remember that if you need help, you can contact us and we help you create your Tik Tok strategy from start to finish 😎
Did you like it? Share and tell us what you think about it!🤗